Unsightly: One of several illegal dumpsites in the Pasir Pinji residential area in Ipoh, Perak. — RONNIE CHIN/The Star
The mushrooming of illegal dumpsites in Ipoh, Perak over the last few years has prompted a need to impose stiffer fines on those responsible for the mess.
Ipoh mayor Datuk Rumaizi Baharin said beginning this month, the compound issued to those caught discarding rubbish indiscriminately would be raised from RM250 to RM1,000 and appeals would not be entertained.
He said Ipoh City Council (MBI) would no longer be lenient as illegal dumpsites continued to persist in the city.
"We have no choice but to take stern action by imposing stiffer penalties.
"MBI will issue the RM1,000 compound under the Road, Drainage and Buildings by-laws to offenders," he said, adding that the actions of a few irresponsible citizens had tarnished the image of Ipoh folk.
Rumaizi hoped that the new amount would compel these offenders to break their bad habit.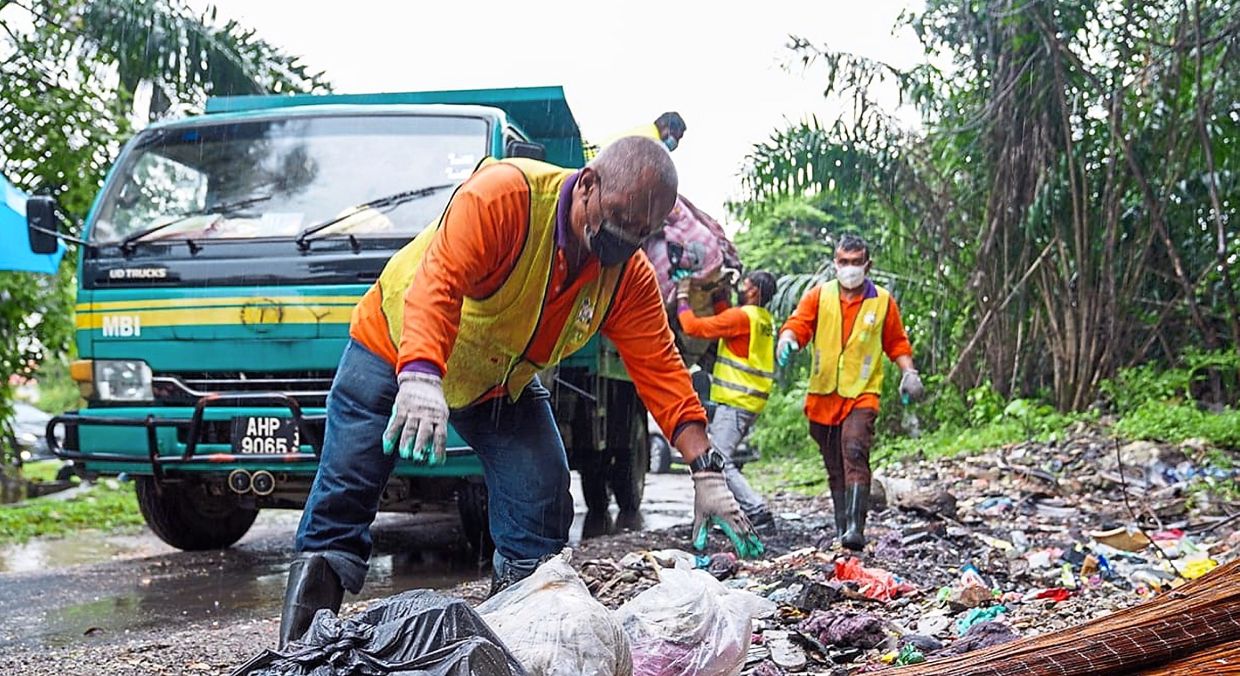 Ipoh City Council workers cleaning up an illegal dumpsite in RPT Pengkalan Pegoh Seberang. — Courtesy photo
"MBI is doing its best to make Ipoh the cleanest city as well as become the best local authority in Malaysia by 2023," he added.
From Jan 1 to July 30, he said MBI had cleaned 1,672 illegal dumpsite locations a total of 3,765 times and issued 780 summonses amounting to RM205,590.
Rumaizi said the council had also carried out 17 gotong-royong sessions and put up 83 "no littering" signs around Ipoh city during the same period.
> Turn to page 3He said council workers would clear an area and a few hours later, the site would be filled with household rubbish, old furniture, mattresses, tins, diapers and unwanted plastic storage containers once again.
"The responsibility does not fall on MBI alone, but it requires the involvement of all parties.
"The act of issuing heftier summonses is a last resort as other measures such as educating the public have not been effective enough," he added.
Collection challenges
Ipoh city councillor Prof Richard Ng said illegal dumping was still rampant although the council was making every effort to beautify the city.
Ng, who is also president of non-governmental organisation Ipoh City Watch, said the number of illegal dumpsites had increased in the last few months.
He said the mounting rubbish problem could have been caused by the disruption in collection services in several areas since September last year.
Lim is frustrated by the fact that some residents do not care about their surroundings.
"In certain areas, three times a week rubbish collection has been reduced to just once a week, so some residents resort to throwing their rubbish at illegal dumpsites.
"Earlier, when summonses were issued, offenders got away with paying less after making an appeal.
"But now, with no possibility of reducing compounds, it should serve as a strong deterrent," he added.
Ng revealed that plain-clothed enforcement officers had caught those throwing rubbish at illegal dumpsites red-handed many times.
"I hope the RM1,000 on-the-spot summonses will teach wrongdoers a lesson," he said.
Thinakaran suggests the city council allocate one day a month for collecting bulk items.
However, he said that some rubbish collectors had also set a trend by collecting rubbish from houses and placing it at specific locations before the rubbish truck arrives.
"So these locations turn into a permanent dumping ground when rubbish collectors fail to turn up on scheduled days," Ng added.
He said in some cases, rubbish trucks were unable to go into narrow lanes to collect waste from houses.
"Manpower is also a serious problem that the council and concessionaires are facing, as foreign workers prefer to work in other sectors because of better hourly rates," he added.
It was reported last September that rubbish collection and cleaning services in several areas in Ipoh had been disrupted as some workers of concessionaire LTC Alam Bersih Sdn Bhd had tested positive for Covid-19.
Ng hopes the new RM1,000 compound will teach wrongdoers a lesson.
Rumaizi had said that almost half of the concessionaire's workforce comprising foreign workers tested positive and had to be self-quarantined.
Some had also returned to their country of origin.
The lack of manpower continued to be an issue in May this year as the mayor said another concessionaire, Majuperak Utilities Management Sdn Bhd, had lost many of its workers to the construction sector.
In a move to manage household waste properly, Rumaizi announced in January that around 10,000 rubbish bins would be given out to Ipoh folk for free within five years.
Community efforts
Ng, who is also president of Perak Silver State Lions Club, said he had been trying to find ways to reduce rubbish in Ipoh.
He said a recent collaboration with MBI, saw Ipoh City Watch and Lions Club start an eco-bricks recycling programme in schools.
The project involved collecting mineral water bottles and stuffing plastic bags into the bottles to turn into eco-bricks, he added.
"The idea is to reduce the amount of plastic going into landfills as these items take a very long time to decompose.
"So far, we have worked with 10 schools in Ipoh and collected 1,000 units of eco-bricks for the council's landscaping department.
"In exchange, the school gets trees to provide more shade for children in its compound," he added.
Meanwhile, Pasir Pinji Residents' Representatives Committee secretary S. Thinakaran, 54, said it would be good if the council could allocate one day a month to collecting bulky items such as furniture, electrical items and garden waste for a nominal fee.
Garden waste found dumped at the Housing Trust residential area in Ipoh. — RONNIE CHIN/The Star
"If the council cannot provide this service, it can always engage private companies to collect the items.
"As I run a transport business, many people have offered to pay me to get rid of their junk, but I usually say no because I do not know where to dispose of such items," he added.
Zone 14 Residents' Representatives Committee chairman Lim Hong Lian, 67, said several gotong-royong sessions had been held in her zone but not long after a site was cleared, it became a dumping ground again.
"It is really frustrating to see that some people do not care about their surroundings.
"The place not only becomes an eyesore, but is smelly and attracts stray dogs and cats that scatter the rubbish.
"The Housing Trust residential area, which falls under Zone 14, is a very nice quiet place but there are a few dumpsites there.
"Many times the sites have been cleared, but yet we find items such as used diapers, wood materials, empty tins and old mattresses there soon after," she said.
Kok Choy Lam, 85, an active member of the Lions Club, is ashamed to see so much rubbish dumped indiscriminately in residential areas.
She said at one time, Ipoh was the cleanest city in Malaysia, but now it was famous for illegal dumpsites.
"Such an environment is not only messy, but can also have an impact on health, as it could turn into a breeding ground for mosquitoes.
"It is not hard to tie up rubbish bags neatly and place them in rubbish bins for waste collection," she added.
Source : The Star